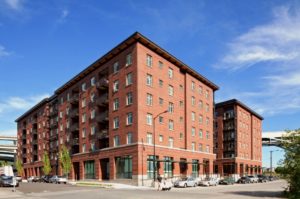 We help individuals who need to stay in a drug-free, alcohol-free environment, those on a fixed income or simply those who want to pay low rent with all utilities included. In our shared housing model, individuals receive their own private, fully furnished room where they share a bathroom and kitchen with 2-3 other individuals and some units come equipped with coined laundry facilities, FREE utilities and WIFI.
Our goal is to help transition individuals from this temporary housing model to one that is more permanent – an efficiency or 1-bedroom apartment, single-family home or multifamily unit – we are able to meet their needs. We want to help them achieve whatever housing situation they want to create.
If you are interested in our transitional housing, there are some important things you must be aware of before renting with us. Many individuals who live in our transitional housing program need regulated care or some type of assistance to obtaining permanent housing. In both cases, our goal is to provide a safe, clean environment for individuals to relax without worry.
So if you have recent violence or drug activity in your background, that would be a recent gun or assault charge or a recent drug charge for trafficking or possession, then this would not be a good spot for you. But most importantly, if you want to have a lot of visitors coming over or staying the night, then this might not be a good place for you either because we do not allow for overnight stays and we really don't like a lot of visitors coming in and out our property. We like to keep things nice and quiet and these guidelines help us achieve that goal.
If you can abide by these rules and are still interested in our transitional housing program, then feel free to check out the list of properties we have available.
Call us today at 314-643-9800 or send a message below.